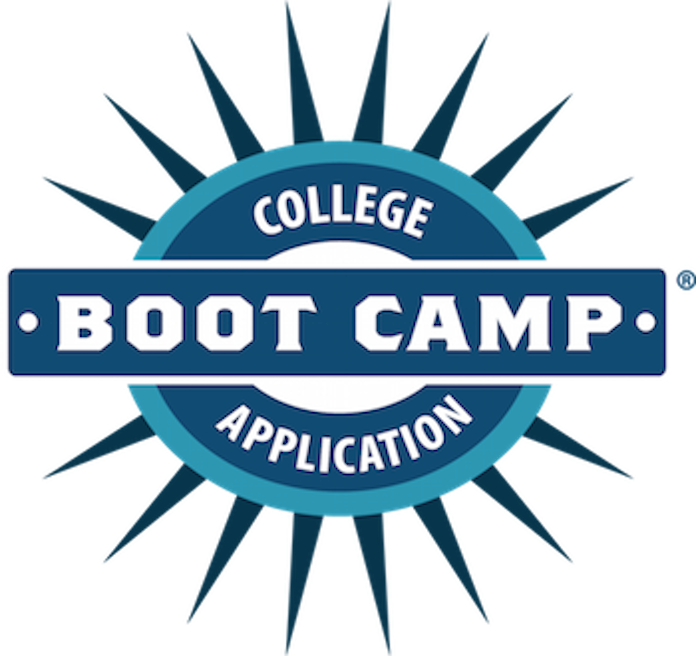 You found the original Application Boot Camp®; helping students prepare the best possible applications for the last 16 years.
Work with Dr. Michele Hernandez, Mimi Doe, Dr. Eliza Fox, Dr. Kristen Willmott, Maria Laskaris, Dr. Elizabeth Doe Stone and the Application Boot Camp team to prepare a suite of essays and to develop an application strategy to increase your college acceptance odds. Seats are limited so sign up today and receive your Personalized Admissions Report.
Prior to the 4-day
Application Boot Camp®
students will receive:
Personalized Admissions Report:
A detailed assessment of academic credentials, road map for targeted colleges, ways to hone your academic niche, advice on class selection, and standardized testing
Personal Consultations:
Phone/Zoom calls to discuss your Admissions Report, review next steps and confirm application strategy
Access to the ABC Membership site:
Loaded with resources and tools including access to all e-Guides, recorded workshops, insider info and exclusive updates
Two Exclusive Teleseminars:
Focused on test prep and extracurriculars
'Ask Me Anything' Q&A:
With Maria Laskaris, former Dean of Admissions & Financial Aid at Dartmouth College
During the 4 days of
Application Boot Camp®
students will:
Complete Common Application:
Work one on one with mentors to complete the entire Common Application and receive 'admissions-committee style' essay reviews
Prepare Multiple Essays:
Leave with essays that can be adapted for supplements
Develop Acceptance Strategy:
Customized application plan to maximize early acceptances
Create Activity and Achievements Inventory:
Sum up high school awards, activities and extras in an Activity Sheet
Ace the Interviews:
Learn interview techniques
BOOT CAMP 2021 (current juniors) & BOOT CAMP 2022 (current sophomores)
REGISTER NOW (LIMITED SPACE AVAILABLE)
Frequently Asked Questions about Application Boot Camp
What Happens Before Application Boot Camp?
Personalized Admissions Report follow-up call
Activity Sheet creation and finalization
Brainstorming for Main Essay
Supplemental Essay organizer
What Happens During Application Boot Camp?
During the four days of Application Boot Camp students will work one-on-one with their mentor to review and finalize their text entries for the Common Application; prepare multiple essays including all required essays and extra essays using the Application Boot Camp strategy; develop an application strategy to increase college acceptance possibilities; receive advice on their odds at targeted colleges; complete a final Activity Sheet and List of 10 to submit with the Common Application; and take part in interview training. This is not an unlimited-time program.
When Is Application Boot Camp?
Boot Camp is 9am to 5pm for 4 days in August.
Note: We have a 9:30-10am coffee meet-and-greet on day 1 for parents and students and a closing parent meeting on day 4 from 3:30-4pm. If you are coming in from out of town, we recommend you arrive the night before day 1 and leave the evening of day 4 (the last day) or the morning after.
Who Is Application Boot Camp For?
Students who will be rising high school seniors in August 2021 (for ABC 2021 students) OR students who will be rising seniors in August 2022 (for ABC 2022 students), including U.S. and international students
College students seeking to transfer
Non-traditional applicants (home-school or community college students)
Re-applicants: applicants who were previously rejected and intend to reapply
What Is The Report That Comes With Application Boot Camp?
The report is a chance to receive input from Mimi and Michele on what you can do NOW to improve your admissions results. It's full to the brim with specific advice on a personalized testing schedule, summer options, ways to sharpen your scholarly focus and gives insight into the schools you are interested in from an admissions prospective. They make the nontransparent admissions process clearer and give specific ways you can rise above the rest by taking action as well as ideas for an application strategy.
What Else Is Included In The Application Boot Camp Package?
Follow-up phone call with Mimi or Michele: Once you receive your report you will schedule a conference call with Mimi or Michele to review the plan.
Access to our ABC Student Membership Site.
ALL of our content e-products including: The Ultimate Guide to Top High School Summer Programs, The Ultimate Guide to Top High School Contests and Awards, the Enrichment Guide, the Resource Guide, Virtual Workshops and our exclusive Mysteries of the Common Application PDF.
What Do I Do Between The Phone Call And Boot Camp?
The time between receiving your PAR and phone call and Boot Camp is when you put the counsel put forth in the report into action. You should keep up with your classes, aiming for A level grades across the board; begin standardized testing if you haven't started, or tutor and retest if you need to boost your scores; and use the e-guides we've included to help create an academic niche to strengthen your application. Junior year is your big push, the year that matters the most for college applications. Additionally, you will work with our Activity Sheet Editor to develop a polished, compelling list of your high-level extracurricular activities before you arrive at Application Boot Camp.
What Is The Student To Senior Counselor/Staff Ratio?
We have a student to staff ratio of 3:1.
What Will Students Complete During The ABC Session?
Our students leave Boot Camp with a completed Common Application plus a suite of essays (4 at minimum) that highlight their strengths, fit the criteria for the Common Application, and can be morphed into supplemental essays for schools that do not use the Common Application. Students also leave with a finalized Activity Sheet as well as other short answer responses to customize for each college application they will submit. Our students leave Boot Camp with a deserved confidence in their full application package and are ready to focus on the ever-important senior year.
Videos from past successful Application Boot Camp students
Featured on:

High Praise From Past Clients:
Not the right solution? Try one of these Top Tier options!
Personal Boot Camp
Want to work 1-on-1 with the best?
Try our flexible Personal Boot Camp.
Essay Guidance
Get our expert guidance on your college essays.