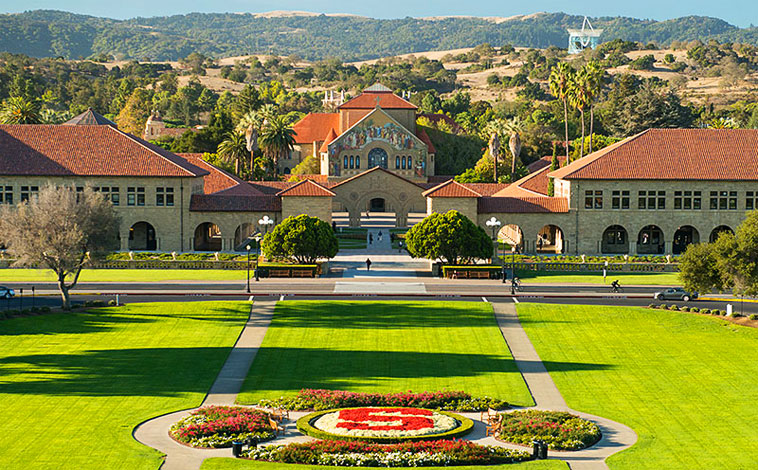 Get into Stanford
Stanford University was ranked #5 in the 2017 US News and World Report rankings of National Universities and #2 Best Undergraduate Engineering Program. Stanford has a total undergraduate enrollment of 7,034 students who study on a beautiful 8,000 acre campus about 37 miles Southeast of San Francisco.
Students at Stanford can earn undergraduate degrees in three schools: The School of Humanities and Sciences, The School of Engineering, or The School of Earth, Energy and Environmental Sciences. About 80% of undergraduates earn degrees from the School of Humanities and Sciences.
The Stanford admissions office recently reported they employ a staff of 52—dean, assistant deans, admissions officers and part-time readers – that averages to slightly more than 746 applications per reader who spends, on average, 7-15 minutes reading each application. Here are the first lines from a few applications Stanford admissions officers reviewed and accepted a few years ago:
When I was 8 years old, I shocked my family and a local archaeologist by discovering artifacts dating back almost 3,500 years.
I stand on the riverbank surveying this rippled range like some riparian cowboy—instead of chaps, I wear vinyl, thigh-high waders and a lasso of measuring tape and twine is slung over my arm.
I'll never forget the day when my childhood nightmares about fighting gigantic trolls in the Lord of the Rings series became a reality. Sword in hand and clad in medieval samurai armor, I dragged myself into the battleground as I faced my opponent, a warmongering giant.
Some fathers might disapprove of their children handling noxious chemicals in the garage.
Stanford offers a restrictive early action option for admissions. This is non-binding, but the policy states that an applicant cannot apply to any other early plan (early action or early decision) except those schools that have an early non-binding plan with an early deadline for a scholarship or special academic program. Students may also apply to a school with a non-binding rolling plan or to any foreign school and any public school with a non-binding early policy. So, a student could apply restrictive early action to Stanford and rolling to Penn State, St. Andrews (Scotland) and University of Wisconsin, among other schools.
Stanford is transparent with their admissions data and shares their information from the Common Data Set.
For the Class of 2021, 95% of accepted students were in the top 10% of their class, and 99% were in the top quarter of their high school graduating class. 93.19% of admitted students had a GPA of 3.75 or higher. Out of 44,073 candidates, the largest application pool in Stanford's history, only 1,329 received letters of acceptance to Stanford's Class of 2021, in addition to the 721 early action students accepted in December. This year's admits come from 50 states and 82 countries, and over 18 percent of the accepted students are the first in their families to attend a four-year college. Very few students get off the wait list – that's because so many students accept Stanford when they are accepted.
As is the case with most schools, teacher recommendations are best from grades 11 and 12. Stanford requires two letters of recommendation from teachers, though they add that you may submit a maximum of one optional letter of recommendation if there is another person—not a teacher or counselor—who knows you well and will provide new insights about you. We counsel our students carefully on this as colleges really don't want random recommendations from a friend of a friend or a professor who taught you for 2 weeks in a summer class.
Stanford offers optional alumni interviews once a student has applied. This will depend on your zip code and if they have anyone in your area. If you are eligible to take part in the alumni interview program, an alumnus or alumna will contact you after you have submitted your application.
Admissions Wrap Up for the Class of 2020:
At below 5%, this year's undergraduate admissions rate is the lowest in Stanford's history and the lowest of the "elite" universities. Out of 43,997 applicants — the largest pool in University history — 1,373 students were accepted to Stanford's Class of 2020, in addition to the 745 early action students accepted in December. The acceptance rate of 9.52 percent for early was slightly lower than the
Class of 2019's early admission rate
of 10.2 percent.
Top Tier Admissions Can Help:
"I finished my college applications in 4 days. Everyone was awesome!"
"M., your advice and guidance throughout this entire process has been essential, for which my family and I are very grateful." --D.C., Boot Camp student
"J.'s in at his first choice school!  Thanks so much for all the help and support.  The admissions person said that his essay was among the first she read and it became the "bar" for all the others.  He is beyond thrilled!" - W.D., Application Boot Camp parent
Most of this advice is not easily available to students. My essays are DONE!
"P. continues to thrive at Brown. She loves her classes, professors, and friends as well as her internship, teaching assistant and research opportunities. She feels very fortunate to be there and strives to take advantage of all that Brown has to offer. We are fortunate to have found you!" --E.V., Application Boot Camp parent
"ABC made writing college essays far less terrible than it otherwise would have been. The senior counselors really kept me on topic." - Application Boot Camp student
"It is SO nice to be able to get basically everything done in a couple of days! It makes the process a lot less stressful and made me feel really confident about my applications." - Application Boot Camp student
I am emailing you to let you both know that I have been accepted to the University of Miami and will be attending there in the fall! It's been a dream of mine for a long time and I couldn't be happier about it. I wanted to thank you again so much for your help and guidance. I really don't think I could have done this without you guys and I will be forever grateful. Your program is truly amazing and I am lucky I attended. Thank you again. –P.T., Application Boot Camp student
University of Miami Class of 2023
"Thank you for everything! This hectic college application process was almost easy with your help. I really appreciate it. I feel like your suggestions and editing pushed me above other similar applicants. Cumulatively, I currently have the highest ranked college acceptances out of my whole school." --A.G., Application Boot Camp student
"Dear M., M. and your wonderful team, we are very happy to let you know that O. was accepted at Georgetown!!!! His "dream university." Thank you very much for all your help. We really appreciate it very much! You can imagine how proud we feel!." --P.Y., Application Boot Camp parent
"Thank you so much for all the team's help at Application Bootcamp! With your help, I was able to produce an application strategy and multiple essays that I am very confident about." –C.Z., Application Boot Camp Student
"Thanks so much for your help with the whole application process! ABC was amazing (and actually a lot of fun as well!)."--W.S., Boot Camp student accepted to Oxford, Amherst, Brown, Cornell, Dartmouth, Duke, Princeton, & Penn
"We are so pleased with the work our son completed at Boot Camp! He was encouraged every step of the way. I can't believe ABC has gotten even better since you worked with our older children!" -I.O., Boot Camp parent
The ABC senior counselors are helpful critics. They helped me ensure my essays were fine tuned AND creative. While it's an intensive time, it's nice to get the bulk of this work finished before fall. - D.J., Boot Camp student
"It feels so good to have so many essays done before senior year. It helps to get so many different perspective on my essays." - Application Boot Camp student
"I GOT IN ED to Dartmouth! I am so grateful for all your support and the amazing ABC you run. I hope that other ABC students got good news as well! THANK YOU SO MUCH!!!!!!!! And a HUGE thanks all the TTA staff who helped guide me with my essays! I couldn't have done this without you guys! GO BIG GREEN!!!" - Application Boot Camp student, Dartmouth Class of 2022
"I know this will increase my chances of getting in by putting me on the right track. The Guide to the Common App 5 on the ABC Student Membership Site was so helpful! I would have been lost!" - Application Boot Camp student
"To the entire staff of Application Boot Camp: A HUGE thank you for helping me navigate through the entire college process. The incredible support and encouragement from everyone there enabled me write insightful essays for the various colleges that I was applying to. I came back from Boot Camp every day feeling confident in myself and my ability to effectively communicate my ideas and thoughts into my essays and most of all, my entire application. I am so happy to say that I will be attending the University of Chicago this fall!!" --J.W., Application Boot Camp student
"The low student to senior counselor ratio meant that I had never-ending support and now I can focus on my grades and extra-curriculars during senior year." -A. D. , Boot Camp student
Ready to Apply? Try one these Top Tier options!