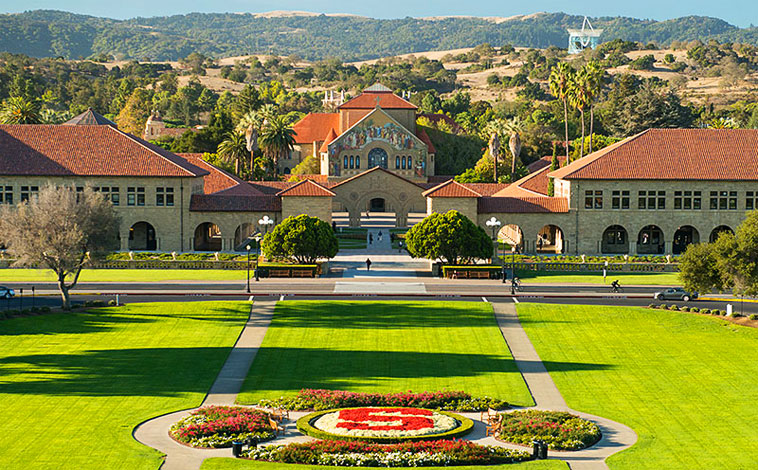 Get into Stanford
Stanford University was ranked #5 in the 2017 US News and World Report rankings of National Universities and #2 Best Undergraduate Engineering Program. Stanford has a total undergraduate enrollment of 7,034 students who study on a beautiful 8,000 acre campus about 37 miles Southeast of San Francisco.
Students at Stanford can earn undergraduate degrees in three schools: The School of Humanities and Sciences, The School of Engineering, or The School of Earth, Energy and Environmental Sciences. About 80% of undergraduates earn degrees from the School of Humanities and Sciences.
The Stanford admissions office recently reported they employ a staff of 52—dean, assistant deans, admissions officers and part-time readers – that averages to slightly more than 746 applications per reader who spends, on average, 7-15 minutes reading each application. Here are the first lines from a few applications Stanford admissions officers reviewed and accepted a few years ago:
When I was 8 years old, I shocked my family and a local archaeologist by discovering artifacts dating back almost 3,500 years.
I stand on the riverbank surveying this rippled range like some riparian cowboy—instead of chaps, I wear vinyl, thigh-high waders and a lasso of measuring tape and twine is slung over my arm.
I'll never forget the day when my childhood nightmares about fighting gigantic trolls in the Lord of the Rings series became a reality. Sword in hand and clad in medieval samurai armor, I dragged myself into the battleground as I faced my opponent, a warmongering giant.
Some fathers might disapprove of their children handling noxious chemicals in the garage.
Stanford offers a restrictive early action option for admissions. This is non-binding, but the policy states that an applicant cannot apply to any other early plan (early action or early decision) except those schools that have an early non-binding plan with an early deadline for a scholarship or special academic program. Students may also apply to a school with a non-binding rolling plan or to any foreign school and any public school with a non-binding early policy. So, a student could apply restrictive early action to Stanford and rolling to Penn State, St. Andrews (Scotland) and University of Wisconsin, among other schools.
Stanford is transparent with their admissions data and shares their information from the Common Data Set.
For the Class of 2021, 95% of accepted students were in the top 10% of their class, and 99% were in the top quarter of their high school graduating class. 93.19% of admitted students had a GPA of 3.75 or higher. Out of 44,073 candidates, the largest application pool in Stanford's history, only 1,329 received letters of acceptance to Stanford's Class of 2021, in addition to the 721 early action students accepted in December. This year's admits come from 50 states and 82 countries, and over 18 percent of the accepted students are the first in their families to attend a four-year college. Very few students get off the wait list – that's because so many students accept Stanford when they are accepted.
As is the case with most schools, teacher recommendations are best from grades 11 and 12. Stanford requires two letters of recommendation from teachers, though they add that you may submit a maximum of one optional letter of recommendation if there is another person—not a teacher or counselor—who knows you well and will provide new insights about you. We counsel our students carefully on this as colleges really don't want random recommendations from a friend of a friend or a professor who taught you for 2 weeks in a summer class.
Stanford offers optional alumni interviews once a student has applied. This will depend on your zip code and if they have anyone in your area. If you are eligible to take part in the alumni interview program, an alumnus or alumna will contact you after you have submitted your application.
Admissions Wrap Up for the Class of 2020:
At below 5%, this year's undergraduate admissions rate is the lowest in Stanford's history and the lowest of the "elite" universities. Out of 43,997 applicants — the largest pool in University history — 1,373 students were accepted to Stanford's Class of 2020, in addition to the 745 early action students accepted in December. The acceptance rate of 9.52 percent for early was slightly lower than the
Class of 2019's early admission rate
of 10.2 percent.
Top Tier Admissions Can Help:
Ready to Apply? Try one these Top Tier options!