Columbia University announced recently that it will no longer require the writing section of the SAT or ACT and it will not require Subject Tests from applicants. U Penn and Cornell are the only other Ivies that do not require the optional writing sections of the SAT or ACT but still "recommend" Subjects Tests. Note: Subject Test submission for Cornell is dependent on the school (within Cornell) that applicants are applying to. Brown is similar: Students who submit SAT scores to Brown are also required to submit two Subject Tests, but the writing section of the redesigned SAT is not required. For students submitting ACT scores to Brown, it is recommended they take the writing section though it is not required and likewise, Subject Tests are not required.
See our chart below for a visual representation of standardized testing requirements across the Ivy League.
CLARITY ON COLUMBIA'S DECISION
Let's be clear about the reasons behind Columbia's change in testing policies. Though Columbia claims it's in the name of a more "holistic" read by admissions officers, the real reason has to do with boosting underrepresented minority applications. Often, minority students are discouraged from applying to top colleges because of high test averages of accepted students. Columbia's Class of 2019 middle 50% of admitted students scored between a 2160-2330 (out of 2400) on the SAT.
Clearly, getting rid of testing is the quickest way to attract more underrepresented minority applicants. Meaning, they will only report the higher scores.
When Temple University dropped the SAT requirement, African American student enrollment went up 22% in one year and Hispanic enrollment went up 26%. Likewise, when George Washington University became score-optional, they experienced a sharp increase in African American, Hispanic, and first generation applications. In fact, GW received 6,000 more applications in 2016 than in 2015.
Applicants who are not underrepresented minorities have to read between the lines. Just because a college does not REQUIRE SAT/ACTs or Subject Tests (only 13 or so colleges actually require 2 or more Subject Tests), the vast majority "highly recommend" Subject Tests and use them to help determine the value of a student's GPA.
Translation: the more high Subject Test scores you submit, the better.
Note the following summary on standardized testing requirements in 2016-2017 in the Ivy League: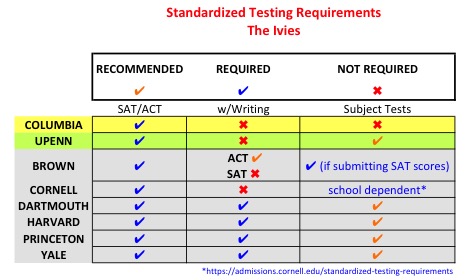 Even bearing in mind the above chart, we still recommend taking as many AP exams and Subject Tests as possible for competitive colleges, as even score-optional colleges use those scores, as the majority of accepted applicants submit them. Take practice exams now, ensure your scores are where they need to be, and start prepping for early fall testing. There is still time!