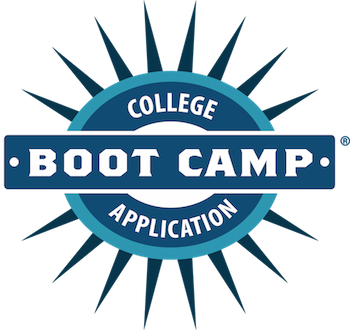 You found the original Application Boot Camp®! Helping students prepare the best possible applications for the last 12 years.
Work with Dr. Michele Hernandez, Mimi Doe, Dr. Kristen Willmott, and the Application Boot Camp team to prepare a suite of essays and to develop an application strategy to increase your college acceptance odds. Seats are limited so sign up today and receive your Personalized Admissions Report.
Prior to the 4-day
Application Boot Camp®
students will receive:
During the 4 days of
Application Boot Camp®
students will:
Complete Common Application:
Work one-on-one and in small groups to complete the entire Common Application
Prepare Multiple Essays:
Leave with essays that can be adapted for supplements
Develop Acceptance Strategy:
Customized application plan to maximize early acceptances
Create Activity and Achievements Inventory:
Sum up high school awards, activities and extras in an Activity Sheet
Ace the Interviews:
Learn interview techniques
Videos from past successful Application Boot Camp students
Featured on:
Frequently Asked Questions about Application Boot Camp
During the four days of Application Boot Camp students will work one-on-one and in small groups to review and finalize their text entries for the Common Application; prepare multiple essays including all required essays and extra essays using the Application Boot Camp strategy; develop an application strategy to increase college acceptance possibilities; receive advice on their odds at targeted colleges; complete an edited condensed activity sheet to submit with the Common Application; and take part in interview training. Also, the Application Boot Camp program includes access to our members-only ABC Membership Site, the ABC personalized student report, follow-up phone call, and four days of in-person admissions consulting at Boot Camp. Within the included guides on the Welcome Kit tab on the ABC Membership Site and in the report, we provide very thorough answers and instructions for guidance throughout the program. This is not an unlimited-time program, so we are not able to answer multiple additional questions beyond the personalized student report and follow-up phone call.
Boot Camp is 9am to 5pm for 4 days in a row in August. We have 2 sessions to choose from each year.
-Boot Camp 2015:
Session 1 = August 5-8
Session 2 = August 14-17
-Boot Camp 2016:
Session 1 = August 10-13
Session 2 = August 17-20
Note: We have a 9-10am coffee meet-and-greet on day 1 for parents and students and a closing parent meeting on day 4 from 3:30-4pm. If you are coming in from out of town, we recommend you arrive the night before day 1 and leave the evening of day 4 (the last day) or the morning after.
Students who will be rising college seniors in August 2015 (for ABC 2015 students) OR students who will be rising seniors in August 2016 (for ABC 2016 students), including U.S. and international students.
College students seeking to transfer.
Non-traditional applicants (home-school or community college students).
Re-applicants: applicants who were previously rejectedand intend to reapply.
Students interested in working in small groups and one-on-one consultations with our ABC staff including senior counselors.
The report is a chance to receive input from Mimi and Michele on what you can do NOW to improve your admissions results. It's full to the brim with specific advice on a personalized testing schedule, summer options, ways to sharpen your scholarly focus and gives insight into the schools you are interested in from an admissions prospective. They make the nontransparent admissions process clearer and give specific ways you can rise above the rest by taking action as well as ideas for an application strategy.
Follow-up phone call with Mimi or Michele: Once you receive your report you will schedule a conference call with Mimi or Michele to review the plan.
Access to our ABC Student Membership Site.
ALL of our content e-products including: The Ultimate Guide to Top High School Summer Programs, The Ultimate Guide to Top High School Contests and Awards, the Enrichment Guide, the Resource Guide, and our exclusive Mysteries of Common Application PDF.
The time between the phone call and Boot Camp is when you put the suggestions put forth in the report into action.
Including Dr. Michele Hernandez, Mimi Doe, & Dr. Kristen Willmott, we have a student to Senior Counselor ratio of 3:1.
You will leave Boot Camp with four or more essays that highlight your strengths, fit the criteria for the Common Application, and can be morphed into supplemental essays for schools that do not use the Common Application. You will have created a detailed Activity Sheet as well as other shorter writing to customize each college application. You will have a one-on-one meeting to finalize your application strategy and solidify a game plan that launches off the written report and you will understand how to put all application components together.
High Praise From Past Clients:
Featured Articles
It's so awesome to feel confident in your applications!
Boot Camp 2014 student
The quick feedback on essays and writing style was key!
Boot Camp 2014 student
My personalized student report [before Boot Camp] was very useful in motivating me to have an active summer (programs, classes, etc.) and to understand testing needs and ways to create an academic niche. It felt a bit harsh at times, but it was realistic. Boot Camp offered a great editing process.
Boot Camp 2014 student
A very productive and informative 4 days!
Boot Camp 2014 student
The ABC report and follow up call with Mimi and Michele gave me a more concrete idea of what I should be writing about. Thank you! It was so much stress off me before senior year starts.
Boot Camp 2014 student
My senior counselor mentor had magical editing skills! He taught me how to be a more descriptive and creative writer. This was a fantastic essay writing camp!
Boot Camp 2014 student
I know this will increase my chances of getting in by putting me on the right track. The Guide to the Common App 5 on the ABC Student Membership Site was so helpful! I would have been lost!
Boot Camp 2014 student
Most of this advice is not easily available to students. My essays are DONE!
Boot Camp 2014 student
Michele, D. loved the Boot Camp. The entire process was excellent start to finish. Great value!
Parent of Boot Camp 2014 student
I'm done with all of my college applications. It's August 19th! How many people can say they finished THAT early?! Mimi, you are the GREATEST motivator!
Boot Camp 2014 student
Not the right solution? Try one of these Top Tier options!